Parental Involvement: Grades 7-12
---
For any prevention program to be truly effective, schools must enlist the support and cooperation of parents. As is the case whenever a sensitive topic is addressed in school, parents may have questions and concerns.
---
Program Orientation
Prior to any classroom presentations and/or student newscasts, Child Lures Prevention encourages schools to invite parents to a Teen Lures TV Newscast and/or School Program Classroom Lesson Plan orientation. Parents are given an overview of the program and an opportunity to voice any questions or concerns. (A sample invitation is provided within the program's Presenter's Guide.)
---
Parent Support
Parents should be provided with the name and phone number of the school's guidance counselor(s) and/or program coordinator, in case additional questions exist or arise. A link to Child Lures Prevention and/or Teen Lures Prevention may be placed on the school's website. Local and national victim resources may be listed as well.
---
Comprehensive Take Home Materials for Parents
Let's Talk Teens
For Parents/Caregivers of Teens & Young Adults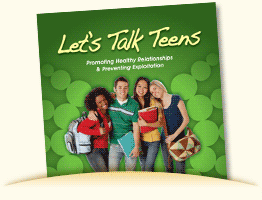 Being the parent of a teen is a challenging experience, especially in today's high tech world. Let's Talk Teens navigates parents through tough issues facing teens and provides specific strategies for keeping them safe. This 20-page guide provides home reinforcement of the Teen Lures TV Newscast/corresponding Classroom Lessonsand helps ensure that personal safety conversations are happening at home. Parents learn how to help teens understand what healthy and respectful relationships look like and how to set personal boundaries.
Tips for Parents
A helpful one-page handout entitled "Tips for Parents" is also included in the program's Presenter's Guide. "Tips for Parents" is available online or in the Presenter's manual for copying and distribution.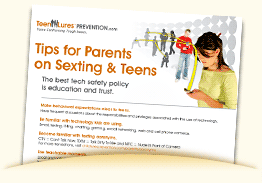 Tips for Parents on Sexting and Teens
The best tech safety policy is education and trust. This one page flyer for parents provides the essentials for preventing your teen from sending/receiving nude or semi-nude images, as well as sexually suggestive or harassing messages.
⇓ View Tips for Parents on Sexting and Teens