Teen Lures TV Newscast curriculum, for Grades 7-12
To make personal safety and teen sexual assault education compelling for older students, the interactive Teen Lures TV Newscast curriculum was created for middle and high school students as an extension of Think First & Stay Safe. Schools can use American Rescue Plan Act (ARPA) funds to purchase this curriculum; "Implementing strategies to meet the social, emotional, mental health, and academic needs of students hit hardest by the pandemic, including through evidence-based interventions and critical services like community schools."
Teens wanted a program they could call their own. The Teen Lures Prevention student-led TV Newscasts and corresponding teacher-facilitated Class Discussions were created specifically with these students in mind. The curriculum was formulated to deeply involve teens in the learning process via student anchors and peer learning.
Scroll down for more information...
A Trusted & Time-Tested Safety Education Solution
Child Lures Prevention/Teen Lures Prevention is proud to reach over a million students via our partners, including:
9000+ Schools & Districts in 43 States
475 Faith-Based Organizations in 30 States

160 Civic Groups in 26 States

100+ Law Enforcement Agencies in 37 States

50 Hospitals in 22 States

46 Military Bases in 20 States & 6 Foreign Countries

40 Child Advocacy Centers

29 Government Agencies in 21 States
"Outstanding program! The lesson plans are perfectly geared toward the age groups of the kids. They actually enjoy the sessions, and the parents always come up to me afterwards to comment on how great the program is. Thank you!"
– Ken Morrison,
St. Dunstan's Roman Catholic Church; Glastonbury, CT
Grades 7-12 Program Overview
Program Goals
The goal of Teen Lures Prevention is to bring about peer to peer conversations regarding sexual assault, harassment, dating violence, bullying/cyberbullying, sexting, identity theft, online luring, suicide and human trafficking. By providing a platform to openly discuss these issues and their prevention, Teen Lures Prevention ensures the information teens are sharing about their personal safety is accurate and productive in preventing crimes against them. This generation of teenagers may very well be the first in history to have a direct impact in reducing the incidence of these issues affecting their well-being. Teens can change the world!
---
Safety Skills Prevent Victimization
Teenagers are the primary target of sexual crimes. They account for 51% of all reported sexual abuse, and teens aged 16-19 are three and a half times more likely than the general population to be victims of rape, attempted rape or sexual assault. All too often, it's a peer who takes advantage. With Teen Lures Prevention, students are trained and motivated to be part of the solution.
Schools provide a safe environment that allows teens to openly discuss the issue of sexual abuse and to reach every student with specific prevention strategies. Schools also provide the ideal opportunity for teens to disclose sexual abuse (only 31% of teen sexual abuse incidents are reported), since school counselors and other mandated reporters are readily available.
---
Peer-to-Peer Abuse/Juveniles using Sexual Offending Behaviors
Teen Lures Prevention addresses peer-to-peer abuse and also provides an opportunity for youngsters who are having thoughts of abusing others to come forward and get help.
Nearly 1/3 of abuse is by juveniles aged 12-19 using sexual offending behaviors; teens themselves. Therefore, it's important to be able to recognize risk factors involved.
Who is at risk for using sexual offending behaviors?
Older teens who lack confidence in their ability to establish and maintain a relationship with an equal may turn to someone younger as a way to boost their self-esteem.
Older boys with stereotypical views of masculinity may see the "conquest" of a young girl as an affirmation of their masculinity.
Teens who have control issues may find it easier to control someone who is younger.
Teens who have been unsuccessful in relationships with their peers may prey on younger teens.
Victims of childhood sexual abuse may abuse younger teens.
---
Safety Education Helps Keep Teens Safe
Teenagers are well aware that sexual crimes happen to teens. They see it on the news, online, on TV and in movies, and discuss it with their friends. By talking openly about these crimes in peer-to-peer formats, this generation of teens can be the first in history to do away with the secrecy surrounding sexual and other predatory crimes and help stop the cycle of abuse that has persisted for generations.
---
Roadblock to Education
Educators typically witness first-hand the ensuing aftermath of sexual abuse/assault, which can include learning challenges, behavioral problems, low self-esteem, depression, suicide, substance abuse, eating disorders, and teen pregnancy. Educators who proactively support personal safety education help ensure their students come to school prepared to learn and free of the challenges that are often associated with the aftermath of exploitation.
---
Cell Phones and the Internet are a Teen's Life!
America's teens have grown up connected, and the majority of them regularly and safely interact with people they don't know through social media and gaming. Most teens today know how to block, ignore, delete, or handle unwanted online or electronic solicitations. They tend to use closed social networks (Instagram, Snapchat, WhatsApp, Kik, etc.) as opposed to open social networks like Twitter, because closed networks are inherently safer.
Students who participate in the Teen Lures TV Newscast learn how most lures can also be used online. Students are asked to sign a Digital Agreement to use technology responsibly. Teens discuss the ramifications of posting/sending/sharing cruel, threatening or disrespectful messages or images, as well as inappropriate, semi-nude or nude images. In today's world, responsible use of technology is imperative.
---
Expect Respect: Fostering Self-Esteem
Teenagers with self-confidence are less likely to be victimized or engage in at-risk behavior. Therefore, it is of vital importance to build self-esteem at every opportunity. By nurturing their sense of self-worth, we can instill in students an expectation to be treated with, and to treat others with, respect and dignity. Assuring teens of their right to control what happens to their own bodies gives them the confidence to assert themselves with adults or peers who attempt to abuse them.
---
Family Involvement Is Essential
Recent polls prove that teens are listening to and respecting the advice of parents and guardians. Parents and guardians play an essential role in protecting teens from sexual assault. Teen Lures Prevention provides several options for schools to ensure parental involvement, including Student Handouts and an optional parent-teen handbook entitled, Let's Talk Teens. Teen_Guide-2020_sample pages
Parents will want to be familiar with the program, so when their teens start talking about issues addressed in the Teen Lures TV Newscast (sexual assault, harassment, dating violence, sexting, bullying/cyberbullying, identity theft, online luring, suicide, human trafficking and more), parents will feel more comfortable discussing these issues with their teen(s). Teens should be praised for raising awareness and spreading the messages of prevention, personal safety and protecting one another.
For Grade 12 students, a Campus and Community Safety guide (optional) is a vital resource for young adults entering college, military, workplace and athletic campuses or the community-at-large. Includes safety and security tips on Dorm/Apt Safety, Identity Theft, Mental Health, Domestic Violence, Sexual Assault, Parties & Social Events, Consent, Dating Abuse, Date Rape Drugs, Active Shooter Situations and Human (Sex) Trafficking with Helplines & Reporting.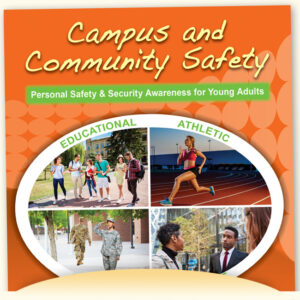 To learn more about Teen Lures Prevention measures, parents and caregivers can visit teenluresprevention.com.
---
Federal Guidelines for Student Personal Safety Programs
Jennifer Mitchell, Co-President of Child Lures Prevention/Teen Lures Prevention, was one of eight national child safety experts who served on the Education Standards Task Force at the National Center for Missing and Exploited Children (NCMEC). The task force, along with NCMEC staff liaisons and supporting agencies, developed the Guidelines for Programs to Reduce Child Victimization: A Resource for Communities When Choosing a Program to Teach Personal Safety to Children.
The Teen Lures TV Newscast School Program aligns with recommendations set forth in NCMEC's guidelines.
Grades 7-12 Program Specifics
Personal Safety Curriculum for Grades 7-12
The Teen Lures TV Newscast provides an excellent opportunity for middle and high school students to actively participate in preventing sexual crimes against teens and youth. Students serve as news anchors, offering their peers safety solutions in the face of troubling news.
See sample "Emergency Lure, News Clip" at right.
The Teen Lures TV Newscast consists of ten (10) video News Clips, each with a corresponding News Anchor Script. Each video News Clip reveals a technique sexual predators use to lure teens, college students, and even adults into sexual assault, abduction, trafficking and worse. Corresponding Anchor Scripts provide lead-ins and tags for each video News Clip.
The following video News Clips can be found on Teen Lures TV Newscast.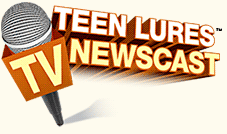 News Clip #1 - Authority......1:45
This news piece demonstrates the dangerous realities of blindly obeying authority figures and reminds viewers of their right to question authority.
News Clip #2 - Assistance......1:16
Most people like to be helpful, but witness in this clip how lending a helping hand may put teens in compromising situations.
News Clip #3 - Ego/Fame......1:54
This news clip demonstrates how setting and defending personal boundaries help teens stay in control, especially when complimented and/or pressured by dating partners/peers.
News Clip #4 - e-Lure......1:23
Teens know how to avoid Internet predators, but how vulnerable are they to questions posed by seemingly caring online acquaintances?
News Clip #5 - Name......1:46
This news clip demonstrates the importance of keeping your guard up - even when someone knows your name.
News Clip #6 - Games......:43
Online gaming is relaxing and fun for teens. This news clip shows how to keep it that way and avoid bullying, harassment and sexual exploitation.
News Clip #7 - Emergency......:54
See how an emergency or time-sensitive opportunity can short-circuit a teen's instincts.
News Clip #8 - Affection......:55
In this news clip, teens learn that it is never okay for someone to be verbally or emotionally abusive, to hit another person or to have intimate contact without consent.
News Clip #9 - Trafficking....:59
See one teen's story of how she was lured into sex trafficking. "I never, ever thought something like this could happen to me, but it did. Looking back, I can see how he manipulated me."
News Clip #10 - Pet......1:29
This clip reminds teens to  be careful when advertising or accepting pet-related jobs, because animals are sometimes used to Lure teens into unsafe situations.
By introducing each video clip with the scripted lead-in and wrapping up the clip with a closing tag, student anchors provide viewers with specific prevention strategies for staying safe. Video News Clip transcripts and suggested local tie-ins are also included with the scripts. Students are encouraged to incorporate as many local stories and tie-ins as possible.
The Teen Lures TV Newscast may be taped and broadcast in-house on your school/school district's closed-circuit TV system. Schools without broadcast and/or taping capabilities may simply perform the Newscast live, either in-class and for peer assembly audiences. Broadcast on local cable TV provides outreach to families, educators, media, law enforcement and child advocacy groups in your community.
The Teen Lures TV Newscast can be used to complement different areas of a school's curriculum, including Social Studies, English, Health classes, Public Speaking, Theater and Media Arts programs.
---
Corresponding Classroom Lesson Plans
To augment the Teen Lures TV Newscast, corresponding Class Discussion Plans (two manuals; one for Grades 7-8, one for Grades 9-12) can be used:
1. in conjunction with the 9-part Teen Lures TV Newscast, taught by teachers or counselors
2. as support/In-Service for Guidance, Administrators and Classroom teachers
- Class Discussion Plans may be emailed to teachers, school counselors, and administrators prior to each newscast.
- Class Discussion Plans can be reviewed with students on an individual basis should the need exist or arise
3. as a stand-alone teen personal safety program, taught by teachers or counselors
Each Class Discussion includes an introduction, learning objectives, a quick review of the previous lesson, discussion and interactive learning activities and lesson recap. Lesson Plans conclude with a Positive Thinking Skill, in an effort to leave students feeling optimistic after discussing a serious topic.
Class Discussions for Grades 7-8 and 9-12: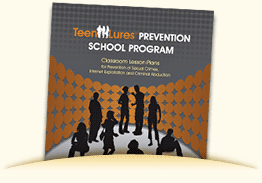 Affection Lure: Healthy Relationships
Assistance Lure: Setting Personal Boundaries
Ego/Fame Lure: Sexting and Peer Exploitation
e-Lure: Cyberbullying, Digital Boundaries, Sexting and e-Luring
Name Lure: Privacy and Identity Theft
Games Lure: Online Gaming, Harassment, Sexual Exploitation
Emergency Lure: Instincts & School Safety
Affection Lure: Grooming & Secrets and Dating Abuse & Consent
Trafficking Lure: Runaways, Lured-aways & Human Trafficking
Pet Lure: Disclosing Abuse, Reporting & Program Recap
⇓ View Sample TV Newscast Script for Grades 7-12
⇓ View Sample Classroom Lesson Plan for Grades 7-12
---
Parent Resource: Let's Talk Teens
For Parents/Caregivers of Teens & Young Adults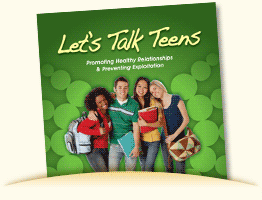 Being the parent of a teen is a challenging experience, especially in today's high tech world. Seventeen percent of teens are cyberbullied, 20% of teens have sent inappropriate images, and 1/3 of sexual assault victims are 12-17 years old. Most of these crimes are committed by someone known to and trusted by the teen, including peers.
Let's Talk Teens navigates parents through tough issues facing teens and provides specific strategies for keeping them safe. This 20-page guide provides home reinforcement of the Teen Lures TV Newscast/corresponding Class Discussions and helps facilitate personal safety conversations at home. Parents learn how to help teens understand what healthy and respectful relationships look like and how to set personal boundaries.
Let's Talk Teens parent handbook includes:
- Developing and maintaining healthy relationships
- Setting personal boundaries
Teen Lures, Disclosing & Reporting Crimes; Authority Lure
Dating Violence, Date Rape, Drugs & Alcohol; Affection Lure
Stewardship, Instincts, Asking for Assistance; Assistance Lure
Cell Phones, Sexting, Human Trafficking; Ego-Fame Lure
Cyber Solicitations, Risk-Takers, Extreme Social Networking; E-Lure
Social Networking & Privacy, Over-sharing Online; Name Lure
Electronic Aggression, Teens & Internet Pornography; Games Lure
School Violence, Teen Suicide Prevention; Emergency Lure
Preventing Lures and Cons
Help Hotlines and Links
⇓ View Let's Talk Teens Sample
---
Posters
Sexual assault and other act violence crimes can happen to teens anywhere: at home, at a friend's house, at a party, on a date, to/from/at school and work, and even in public places.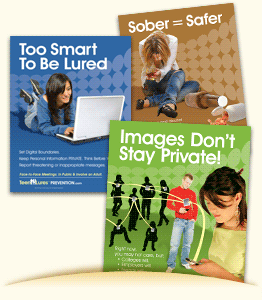 The following posters were created for teens to download for free and post anywhere they think would be helpful. Consider posting them on your school's website, in classrooms, hallways, restrooms and locker rooms. We encourage schools to forward the link to other community organizations that work with teens.
Poster Series
Images Don't Stay Private!
Too Smart To Be Lured
Sober=Safer
Trust Your Gut.
Intolerance is Intolerable.
No Threats. (No Kidding!)
Exclusion Hurts
No Weapons. No Exceptions.
Help Stop Teen Trafficking
View Complete Poster Series
⇓ English | ⇓ Spanish
---
Skills
Leadership and Community Outreach
Increase Self-Reliance and Self-Esteem
Master Personal Safety & Decision Making Skills
Practice Interpersonal Communication Skills
Ethics and Social Responsibility
Collaboration and Teamwork
Self Management and Asking for Help
Reporting Abuse and/or Harassment
---
Grade Levels
Grades 7-8 and Grades 9-12
---
Format:
Intro/Quick Review
Learning Objectives
Classroom Discussion
Practice: Real Life Scenarios
Multimedia/Posters
Lesson Recap
Positive Thinking Skills
---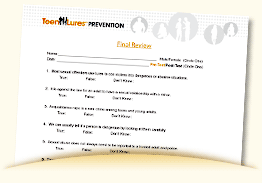 Evaluating Your Program (Pre/Post Tests Included)
A Pre/Post Test for Grades 7-8 and a Pre/Post Test for Grades 9-12 are provided to formally gauge student progress and retention of the Teen Lures Prevention lesson plans. Prior to program presentation, the Program Evaluation should be administered as at Pre-Test. It should also be administered following completion of the program as a Post-Test.
---
Program Support
Teen Lures Prevention staff support coordinators (available at 1-800-552-2197) are here to answer questions, help with any problems, and provide assistance during program implementation and/or Pre or Post Evaluation of the program. We also offer excellent In-Service training for educators and presenters for an additional fee. For more information, please e-mail us
---
Educational Goals:
To help teens develop and maintain healthy, respectful relationships.
To nurture each teen's sense of self-worth, and to encourage teens to respect the dignity of others.
To assure teens that laws exist to protect their health and safety.
To remind students they have rights, including a right to live free of any form of mistreatment.
To give students a leadership role in the prevention of bullying, harassment, dating violence, human trafficking and sexual exploitation of teens.
To empower teens to feel comfortable talking openly about any form of mistreatment.
To encourage students to use a combination of critical thinking and instincts to guard their personal safety.
To encourage students to take safety precautions while enjoying the many advantages of using technology.
To strive for kinder, more tolerant students, in an effort to maintain a safe learning environment for all.
To cultivate 21st Century Learning skills, while building self-esteem and self confidence.
To promote disclosure of any type of harassment or abuse, perceived or carried out.
To assure students with thoughts of abusing others that help is available.
To reduce the feelings of guilt and blame often felt by survivors of abuse.
To encourage students to analyze media messages by asking specific questions and become proficient in obtaining evidence-based answers.
To encourage parents to continue taking an active role in the personal safety education of their teen.
To help make the world a safer place for all human beings.
To encourage parents to take an active role in the personal safety education of their children.
Preview the Program
You can preview the complete Teen Lures TV Newscast™ (and/or Think First & Stay Safe™) curriculum kit for your school or organization for 30-60 days with no obligation to buy. Contact us today for references and more information.