Parent Resources For Preventing Child/Teen Molestation & Sexual Abuse
Prevention Education Begins at Home
As parents, the most important responsibility we have is to keep our children safe and happy. The best way to prevent child exploitation is to have open, honest discussions on a regular basis. These conversations begin at home.
With schools closed due to COVID-19 and summer looming, students are at increased risk to both abuse and online exploitation. For the first time ever, minors make up half of visitors to the National Sexual Assault Hotline (RAINN). The Justice Department reports that online exploitation is skyrocketing and is urging parents to increase online supervision. Prevention education is more vital than ever.
FREE Parent Training Modules are available at:
https://childluresprevention.com/parent-training-modules
Password: 4par3nts
Child Lures Prevention's 33 years of research shows the same lures have been used by sexual offenders generation after generation to exploit our nation's youth. Today, these lures are also used electronically, but their essence remains the same. The Think First & Stay Safe™ Parent Guide is an invaluable resource to prevent crimes against children.

Parent Resource: Think First & Stay Safe™ Parent Guide
Talking about sexual exploitation is an uncomfortable subject for most parents and guardians. The 20-page illustrated Think First & Stay Safe™ Parent Guide is designed with this in mind. The Parent Guide gives parents and guardians current, relevant personal safety information - including proven prevention strategies - to sit down and share with youngsters, age-appropriately. The Parent Guide provides the words and illustrations to ease personal safety discussions.
The Parent Guide is heralded by parents, guardians, educators and law enforcement alike as the ultimate resource for keeping youngsters safe from sexual exploitation. It also comprehensively addresses abduction, Internet luring, bullying, harassment (electronic and offline), drugs, and school violence. The Guide is continually updated to reflect the latest issues and safety concerns facing today's youngsters. (For parents of students in Grades PreK-6.)
The Think First & Stay Safe™ Parent Guide includes: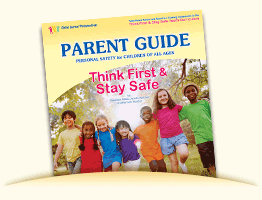 Helpful Safety Tips for parents and guardians
Explaining the concept of law to children
Who Abuses Children? | Where does Sexual Abuse Happen?
Detailed explanations of the 16 lures commonly used by sex offenders & child abductors | Evidence-based prevention strategies for each lure
Grooming Behaviors | Signs of Abuse | About Human Trafficking
Family Safety Plan; Sleepovers, e-Safety, All Secrets Can Be Told, Emergency Plan
Trusting Your Instincts & Keeping A Balanced Perspective
Strategies to combat bullying, sexual harassment, school violence, & bias crimes
Drug resistance education, as it relates to personal safety
What to Do if Your Child Discloses Sexual Abuse
What to Do if Your Child is Missing
⇓ View Parent Guide Sample pages
By reading the Parent Guide and having face-to-face discussions with children, we can change the unacceptable current statistics: approximately 1 in 4 girls and 1 in 20 boys report experiencing childhood sexual abuse before age 18 (Finkelhor et al, 2015). Nine in 10 children who are sexually abused are abused by someone the child and family personally knows - and often trusts. Notably, 1 in 3 children who are sexually abused are abused by another child, usually an older/stronger child or teen. (Finkelhor, 2012) The good news is that many of these crimes are preventable with increased awareness, knowledge of sexual offender behaviors and asking an adult for help with any safety matter.
As Child Lures Prevention/Teen Lures Prevention posed at the most recent White House Conference on Missing, Exploited and Runaway Children, "If sexual offenders are using Lures, shouldn't we be teaching our children those Lures?"
Finkelhor, D., 2012, Characteristics of Crimes Against Juveniles; Crimes Against Children Research Center, University of New Hampshire.
Finkelhor, D., Turner, HA., Shattuck, A., & Hamby, SL., 2015. Prevalence of Childhood Exposure to Violence, Crime, and Abuse: Results From the National Survey of Children's Exposure to Violence. JAMA Pediatrics - The Science of Child and Adolescent Health. 2015 Aug;169(8): 746-54. doi: 10.1001/jamapediatrics.2015.0676.             
---
Parent Resource:
Let's Talk Teens; Parent-teen handbook
Being the parent of a teen is a challenging experience, especially in today's high tech world.
Let's Talk Teens helps parents/guardians and teens navigate through issues facing teens today and provides specific strategies for keeping them safe. Helps initiate family discussions. (For Grades 7-12.)
Let's Talk Teens parent handbook includes:
- Developing and maintaining healthy relationships
- Setting personal boundaries
Teen Lures, Disclosing Abuse & Reporting Considerations; Authority Lure
Dating Violence, Date Rape, Consent, Drugs & Alcohol; Affection Lure
Volunteering, Instincts & Intuition, Asking for Assistance; Assistance Lure
Technology & Exploitation, Sexting, Sex Trafficking; Ego-Fame Lure
Cyber Interactions, Risk-Takers, Social Apps Teens are Using; e-Lure
Social Media & Privacy, Over-sharing & Identity Theft; Name Lure
Electronic Aggression, Teens & Internet Pornography; Games Lure
School Violence & Shootings, Teen Suicide Prevention; Emergency Lure
Preventing Lures and Cons
Helplines and Links
Seventeen percent of teens are cyberbullied, 20% of teens have sent inappropriate images, and 1/3 of sexual assault victims are 12-17 years old. Most of these crimes are committed by someone known to and trusted by the teen, including peers. With parent support and understanding, this generation of teens is poised to change these statistics. Parents can help preserve teen safety by staying informed, modeling healthy relationships and openly discussing the contents of Let's Talk Teens.
⇓ View Lets' Talk Teens Sample pages
Campus and Community Safety;
Personal Safety & Security Guide for Young Adults
Vital resource for young adults (Grades 11-12 and older) entering college, athletic, military and workplace campuses or the community-at-large. Includes safety and security tips on Dorm/Apt Safety, Identity Theft, Mental Wellness, Domestic Violence, Sexual Assault and the Red Zone, Parties & Social Events, Consent: Got it?, Dating Abuse, Date Rape Drugs, Active Shooter Situations and Human (Sex) Trafficking with Helplines & Reporting.
⇓ View Campus and Community Safety Sample pages
---
A Community Effort for Safety
Encourage your child's school or organization to distribute the Think First & Stay Safe Parent Guide, in a coordinated effort with implementation of the Think First & Stay Safe School Program. When all community members are educated about child personal safety, the community as a whole is better prepared to protect its children from sexual crimes. This approach sends a strong message to would-be offenders that your community is on guard and will not tolerate such crimes against its educated children.
Why teach personal safety education at school?
Schools are a natural forum for teaching personal safety education. It's where students gather among caring adults who are also mandatory reporters. For most students, school is a safe, nurturing environment where procedures are in place for reporting abuse and school counselors/nurses are readily available for victimized children. Sexual crimes and the issues surrounding them are an excellent fit with the overall health curriculum and reaches children being abused at home.
---
Bulk Orders
The Think First & Stay Safe Parent Guide is available for mass distribution to schools, churches, youth organizations, cities, counties and states. The Parent Guide can be visiting ordered individually or in bulk and is available in English, Spanish, Polish and Braille.
For orders of 20,000+ copies, Child Lures Prevention offers customization of the publication (with logos, advertisements, letters, and/or photographs) for organizations. This is particularly popular with corporate sponsors who recognize the public relations power of so valuable a gift. Order the Parent Guide.
---
Additional Helpful Information For Parents:
Peer-on-Peer Abuse
30-40% of child sexual abuse is committed by juveniles using atypical and problem sexual behaviors. They are usually older, stronger kids (including peers, siblings and relatives.) There are two very important distinctions to make about juveniles who use atypical and problem sexual behaviors. Notably, the majority of children who are sexually abused DO NOT go on to become sexual offenders. And the small subset of juveniles who do mistreat other children, often have histories of being victimized themselves.
Parents should keep in mind that the average onset of problem sexual behavior is 12-14 years old (atypical sexual behavior is used by children under the age of 12). Also noteworthy to parents: the average age of alcohol and marijuana experimentation is now 12 years old.
Parents should closely monitor children during play dates and multi-family gatherings, especially those involving multi-aged children. Child sexual abuse tends to occur while adults are socializing and youngsters are playing unsupervised in separate areas.
Sleepovers
Many children are sexually abused during sleepovers, by both adults and juveniles. If you choose to allow sleepovers, ask about supervision, visitors (friends of siblings, relatives, neighbors, friends of the family) and sleeping arrangements. Give your child permission to contact you any time of the day or night. Let your child know that if they have an uneasy or funny feeling about a person or situation, they don't have to wait until something happens - they can tell you or another Trusted Adult right away. Discussing personal safety on a regular basis will go far in preventing sexual crimes.
Grooming
Grooming refers to deliberately establishing an emotional connection with a child to prepare them for abuse.
Most kids are slowly lured into abuse with grooming behaviors. Secrets typically play a significant role in the grooming process. Stress to children that there should be no secrets from you ever, even seemingly innocent ones, as they often lay the groundwork for future abuse.
The following are grooming behaviors, which on the surface, can appear innocent. A potential offender may:
Befriend the youngster and their family to slowly gain trust.
Give gifts, money, trips, and/or performing special favors for youngster.
Promote the notion that the relationship with the boy or girl is special.
Encourage harmless secrets, laying the foundation for future sexual secrets.
Regularly take pictures/video of the child.
Communicate with the boy or girl excessively; texting, emailing or calling.
Desensitize the child through nonsexual touching, "accidental" touching of privates and/or walking in on bathroom or dressing time.
Test a child's boundaries by using inappropriate language and/or telling dirty jokes.
Play body contact games with children; tickling, back rubs or wrestling.
Make alcohol/drugs available to the youth.
Introduce pornography to initiate sexual interest or normalize the behavior.
Offer to babysit, including overnight trips or sleepovers.
* Keep in mind that most sex offenders are someone we know and trust. They are notoriously friendly, nice, kind, engaging and likable. They often target victims, insinuating themselves into that child's life,  their family, school, house of worship, sports, and hobbies. Sex offenders are professional con artists and are expert at getting children and families to trust them. They will smile at you, look you right in the eye and make you believe they are trustworthy.
Beware Single Parents!
A special word of caution to single parents: please be careful. Single parents and their children are easy targets for sexual offenders. With schedules oftentimes overloaded, it is tempting to accept offers of babysitting or "a helping hand" - especially if it is someone you like and trust, and they constantly offer to help.
Be extremely cautious of offers to take your children overnight. If it seems too good to be true, it probably is. Children and teens are also abused by live-in partners of single parents. Recognize, listen to and trust to your instincts. Encourage your children and teens to do the same. Again, the best way to prevent child exploitation is to have open, honest discussions on a regular basis.
Parents of Teenagers
Most teens view themselves as independent and invincible. Crime statistics for teens, however, reveal a different reality.

Teenagers are the primary target of sexual crimes. They account for 51% of all reported sexual abuse, and teens aged 16-19 are three and a half times more likely than the general population to be victims of rape, attempted rape or sexual assault. All too often, it's a peer who takes advantage.
Leave your copy of the Think First & Stay Safe™ Parent Guide and/or Let's Talk Teens parent handbook out for your teen to read. They'll either read it on their own or ask you about it. Either way, having ongoing conversations about personal safety lets your teens know you are available and willing to talk. Encouraging teens to talk openly about bullying, harassment, dating violence, sexual assault and trafficking can help ensure they don't become victims - or perpetrators.
Consider visiting TeenLuresPrevention.com for more information about preventing sexual crimes against teenagers. Your teen may be interested in participating in the Teen Lures TV Newscast.
Today's teens can help change the culture surrounding sexual assault!