About Us
Child Lures Prevention/Teen Lures Prevention (CLP/TLP) is based in Shelburne, Vermont - and reaches worldwide. Our mission began in 1985, and continues today: we are here to help you prevent crimes against children and youth through education and awareness. Together, we can make this a safer and gentler world for children.
International personal safety experts Rosemary Webb and Jennifer Mitchell have each dedicated over 37 years to CLP/TLP, and currently serve as co-Presidents. Founder Kenneth Wooden serves as President Emeritus and continues to be very active in his lifelong efforts to safeguard children throughout the world.
Jennifer and Rosemary recently presented CLP/TLP's evidence-based curricula, Think First & Stay Safe™ and Teen Lures TV Newscast™, as model initiatives at the United Nations in Geneva, Switzerland during the United Nations 30th Anniversary of the Convention on the Rights of the Child's inaugural event "Preventing Sexual Abuse of Children: An Educational Toolbox" ~ with over 50 nations represented.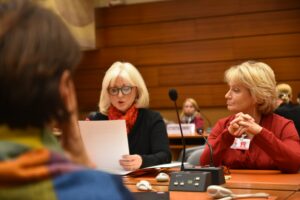 Jennifer Wooden Mitchell has dedicated her 35 year career to protecting the health and safety of children and teens.
Since 1985, Rosemary Wooden Webb has devoted herself to Primary Prevention - preventing abuse before it happens.
Preview the Program
You can preview Child Lures Prevention educational materials for your school or organization. Contact us today for references and more information.