Child Sexual Abuse & Molestation Prevention Program For Grades PreK-2
The Think First & Stay Safe™ Adult Training & Youth Curriculum is the ORIGINAL child victimization prevention program — adopted and trusted by thousands of schools and school districts across America and around the world.
Evidenced-based and trauma-informed, Think First & Stay Safe™ provides children with age-appropriate, non-frightening personal safety education for preventing child molestation, child sexual abuse, child luring, child abduction, and other forms of child victimization. The program offers a balanced perspective that preserves the innocence and optimism of childhood, while arming youngsters with essential personal safety strategies.
A Trusted & Time-Tested Safety Education Solution
For the 2017-2018 school year, Child Lures Prevention is proud to reach over a million students via our partners, including:
7000+ Schools & Districts in 43 States
475 Faith-Based Organizations in 30 States

160 Civic Groups in 26 States

100+ Law Enforcement Agencies in 37 States

50 Hospitals in 22 States

46 Military Bases in 20 States & 6 Foreign Countries

40 Child Advocacy Centers

29 Government Agencies in 21 States
"Outstanding program! The lesson plans are perfectly geared toward the age groups of the kids. They actually enjoy the sessions, and the parents always come up to me afterwards to comment on how great the program is. Thank you!"
– Ken Morrison,
St. Dunstan's Roman Catholic Church; Glastonbury, CT
PreK-2 Program Specifics
The Lesson Plans
The PreK-2 curriculum consists of seven scripted interactive Lesson Plans, which are presented incrementally to build knowledge and understanding and to reinforce safety messages. Each Lesson Plan includes a topic introduction with learning objectives, a quick review of the previous lesson, discussion and interactive classroom activities, take-home handout, lesson recap and positive thinking skill. Lesson Plans: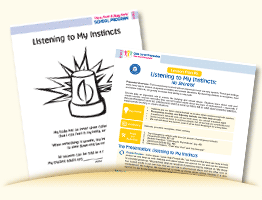 1. Using Our Built-in Computers: Staying Healthy and Safe
Using our brain to help stay healthy and safe
Learning to program our built-in computer
2. People are Like the Weather: Being Kind and Respectful
There are many ways of showing kindness and respect to others.
Like the weather, most people are sunny and safe.
3. Child Luring: Telling My Trusted Adults
Understanding the concept of luring and abuse
Standing up for safety in an assertive manner and asking a Trusted Adult for help
4. Laws Help Protect Me: My Body Belongs to Me
Kids have a right to live abuse-free.
Bullying and harassment are against school rules and the law.
Bullies and abusers are usually someone we know.
5. All Secrets Can Be Told: Listening to My Instincts
Inner sirens and how they warn us
Listening to, following and trusting instincts
Secrets and why we tell
6. The Kindness of People: Choosing a Grown-up to Help Me
Most people are kind, caring and protective of children
Choosing a safe adult to help when needed
7. My Dignity: Bullying and Abuse Are Not My Fault
Giving and receiving respect
Bullying and sexual abuse are not the fault of the person they happen to.
How to seek help in difficult and unsafe situations
Bullying and abuse can not take away our dignity.
⇓  View Sample Scripted Classroom Lesson Plan for PreK-2
⇓  View Sample Student Handout for PreK-2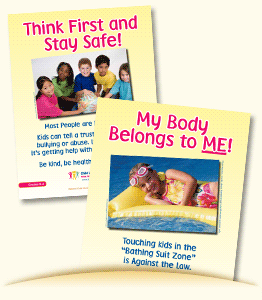 View Full Classroom Poster Series:
⇓ English | ⇓ Spanish
Think First and Stay Safe!
My Body Belongs to ME!
All Secrets Can Be Told
Stay Three Steps Back.
Trust Your Gut Feelings
There's No Lost Puppy!
Be Kind Online
PreK-2 teachers need only teach students the (7) cornerstone Lesson Plans. These form the foundation of personal safety education and contain the essentials of awareness, assertiveness, preparedness, asking for help and disclosure.
---
Skills
Master personal safety skills, as relates to State and National Health Education Standards
Increase Self-reliance
Raise self-esteem
Understand most people are safe
Asking for help
Reporting
---
Grade Level: (Pre)/K - 2
---
Format:
Intro/Quick Review
Learning Objectives
Discussion/Interactive Learning/(PowerPoint Presentation optional)
Classroom Activity, age appropriate
Student Handout for class use and take-home
Posters
Lesson Recap
Positive Thinking Skills
---
Expanding the PreK-2 Curriculum: Optional
Depending on the maturity level of your students, you may want to teach some of the Child Lures lesson plans. If so, we recommend choosing from the following Grades 3-4 Lesson Plans: Affection Lure, Assistance Lure, Pet Lure, Authority Lure, Bribery Lure (includes expanded sections on secrets), Fun & Games Lure, Hero Lure, Name Lure and Friendship Lure.
---

Evaluating Your Program (Pre/Post Tests Included)
A PreK-2 Pre and Post Student Evaluation is provided to formally gauge student progress and retention of the Think First & Stay Safe™ concepts and prevention strategies. Prior to program presentation, the Student Evaluation can be administered as at Pre-Test. It can also be administered following completion of the program as a Post-Test.
The evaluation may be administered verbally or in writing, depending on students' abilities.
---
Program Support
Think First & Stay Safe™ staff support coordinators are here to answer questions and provide assistance during program implementation and/or Pre/Post Evaluation of the program. Please call 1-800-552-2197, Monday-Friday, 9am-5pm ET.
In addition to the program's Child-Serving Adult Training Modules (7), and Parent/Guardian Training Modules (3), optional In-Service  Training Seminars are available for an additional fee. For details, email info@childluresprevention.com or call 1-800-552-2197.
---
The Educational Goals are:
To establish an understanding that the vast majority of people are decent, caring individuals who are protective of children.
To assure students that bullying, sexual abuse and harassment are against the law, and that laws exist to protect their safety.
To advise students that they have rights too, including a right to live free of abuse.
To encourage students to rely on a combination of skills learned, critical thinking and instincts to help ensure their personal safety.
To nurture each youngster's sense of individual worth and urge them to recognize and respect the worth of others.
To promote disclosure of any type of threat to a youngster's safety.
To assure youngsters with thoughts of abusing others that help is available.
To reduce the feelings of guilt and blame often felt by children who are bullied or abused.
To encourage parents to take an active role in the personal safety education of their children.
To strive for kinder, more tolerant thoughts and actions, in an effort to lower the incidence of all forms of aggressive behavior.
Preview the Program
You can preview Child Lures Prevention educational materials for your school or organization for 30-60 days with no obligation to buy. Contact us today for references and more information.